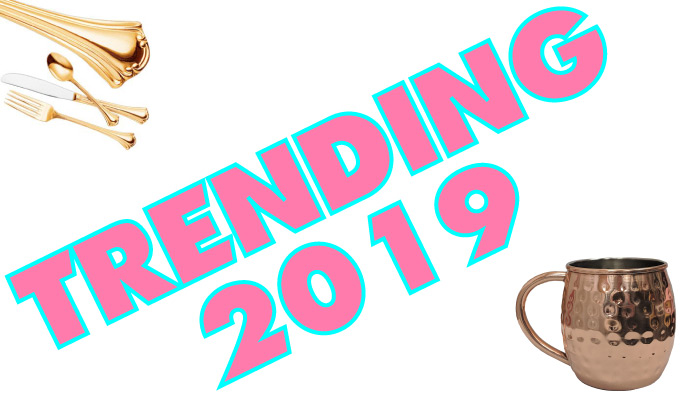 The new year is here and reservations are thriving. While there are always tried and true classic settings in the event industry, we notice certain styles and products catch on rapidly each year. Here are some of the things trending upward we have observed heading into 2019.
---
METALLICS
Mixing metals seems to be one of this years' hottest trending styles. Metals are great and diverse, easily integrating with almost any color palette. Rose gold has been popular but Copper seems to be booming. Copper is easily mixed with both silver and gold accents and can be popularly used a tabletop, on a dress, or in centerpieces. There are no more rules about mixing silver and gold. Metals also go with the newer trending "Industrial" theme perfectly.
Suggested Rental Items: Silverware, crystal glassware, copper mugs, metallic colored charger plates, coffee urns, candelabras, trays and stands, metallic colored linens, silver and gold chiavari chairs, metallic rimmed dishware, sequin overlays, sequin runners, sequin backdrops, rhinestone napkin rings, metal easels.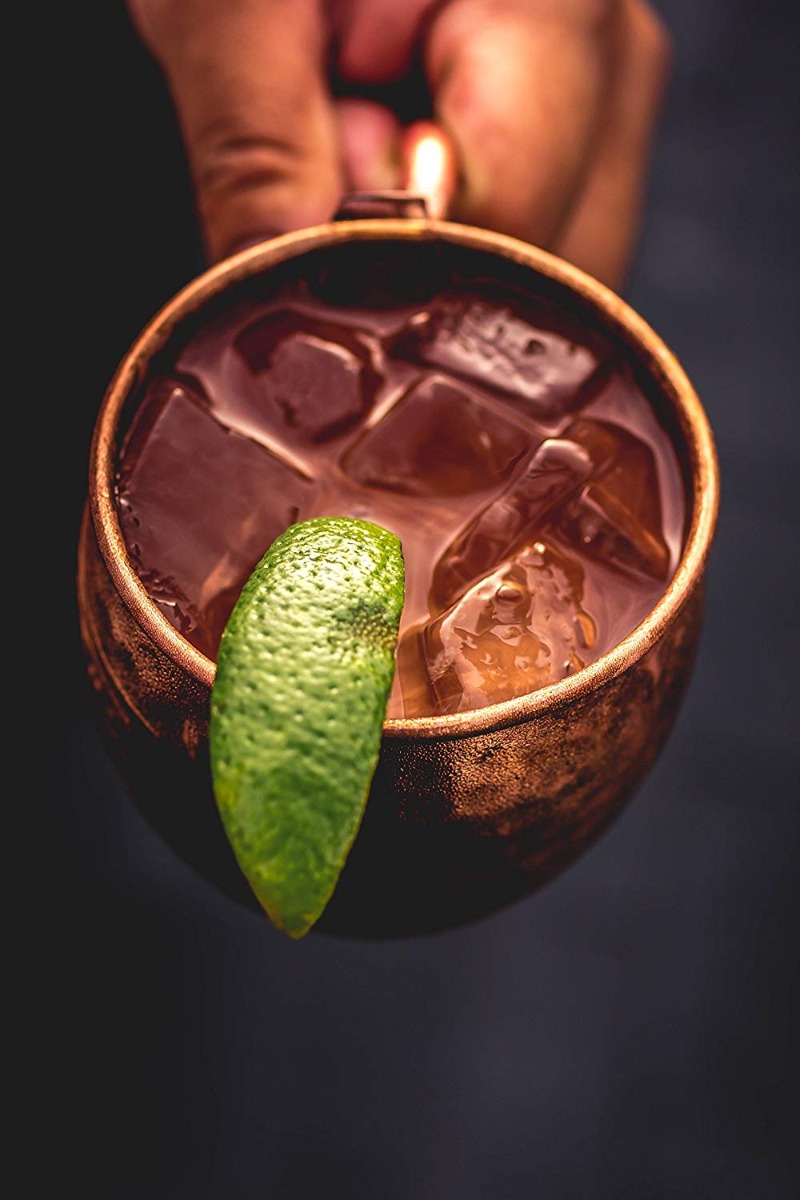 INDUSTRIAL THEME
Segwaying from our metallics theme into the trendy Industrial look.  It looks like many people are starting to opt out of burlap, wildflowers, and mason jars from previous years. Rustic style items like old furniture, wine/whisky barrels, wooden creations, and upholstered furniture are still common, but industrial spaces like old mills and factories are becoming popular destinations. These venues often have the same raw wood and metal accents as a barn, but in a much more modern feeling space. Woods are being mixed with a variety of metals to bring more of the "industrial" feel to their weddings.
Suggested Rental Items: Wine barrel table, wine barrels, rustic cocktail tables, wooden harvest tables, industrial cupcake stand, wooden cake stand, wrought iron look gourmet stands, wrought iron base drink holder, drink dispensers, willow candelabras, chiavari chairs, garden chairs, black folding chairs, metal arches, pipe and drape, wooden and metal easels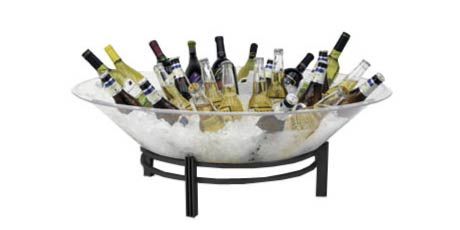 LIVE CORAL IS PANTONE'S COLOR OF THE YEAR 2019
Purples in all different shades are still hot for 2019, but coral is seeing a surge. We are seeing a lot of mix and match with bridesmaid's dresses, flowers, and table linens.
Suggested Rental Items: Coral taffeta table runners, Coral sequin table runners, Coral sequin overlays, Coral napkins, Coral base cloths.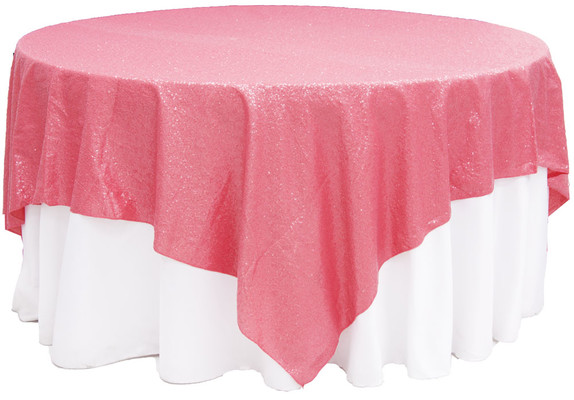 OTHER POPULAR COLORS THIS YEAR
Dusty purple / mauve, navy blue, burgundy, gray, sage, sun yellow, peach, purple, raspberry are all trending upward.
Suggested Rental Items: tablecloths, overlays, table runners, napkins
FLOWERS 2019
Bold, bright, flowers and lots of greenery are in! Orange, burgundy, yellow, and hot pink are all bright and beautiful mixed with more subtle greens. Greenery garland continues to be a hit, being draped in abundance on long tables, arches, columns, and centerpiece accents.
Suggested Rental Items: candelabras, vases, manzanita trees, arches and arbors, pipe & drape backdrops


DIY FOOD STATION
Couples are opting for a more personal take on food. Sit down dinners are still popular but stations with personal favorites are still huge this year. Dessert bars, seafood stations, DIY pizza and taco bars, slider and fry stations.
Suggested Rental Items: Sectional tables in different shapes, barrel table, chafing dishes, serving utensils, donut stands, various sizes and styles of gourmet stands, drink dispensers, dessert stands, serving platters and bowls, decorative linens to match a theme for food station, dishware, serving trays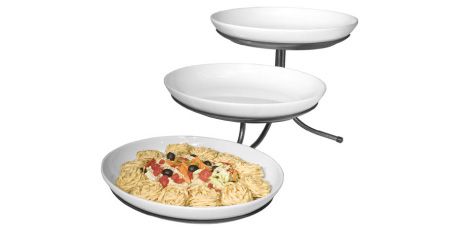 CAKES
Naked cakes are making a comeback this year as evidenced by their surging populartiy on Pinterest boards. People are dressing up the naked look with flowers or fruit, but the frosting covered look seems to be fading. Cake stands in a contrasting metal is also going to be big in 2019.
Suggested Rental Items: Cake stands, cupcake stands, cake tables with and without casters, single barrel table
UNPLUGGED CEREMONIES
More couples are unplugging their ceremonies. Cameras and cell phones are being banned from ceremonies to try to get their guests more "in the moment". Electronics are allowed into the reception to get memories captured and posted in the social media world.