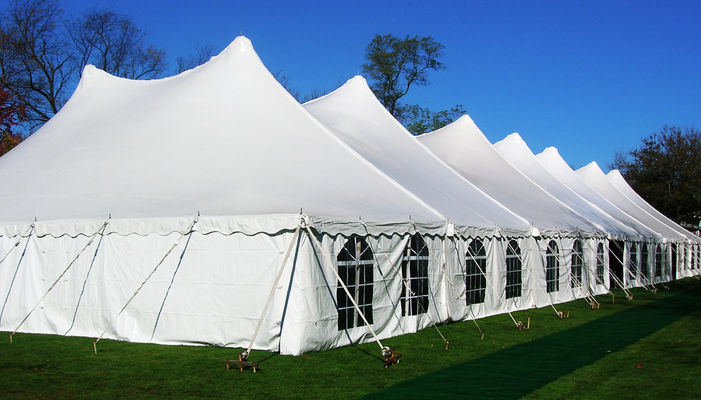 Determining the size of your tent can be tricky. Most people don't think about everything they want to fit underneath and only account for the main items. Some of the questions we ask our customers are:
How many guests are you expecting?
Will you be seating them at tables of 8 or 10
Do you need room for a dance floor, buffet, bar, lounge area, stage, head table, or sweetheart table?
Do you need additional space for mingling or tall cocktail tables?
General space requirements by item:
Tables: Usually a table of 8 - 10 people takes up a 10' x 10' area. That allows enough room for maneuvering chairs and adequate lane space for people to navigate between tables.
Bar: We also recommend a 10' x 10' bar area so there is enough space for a small line.
Dance Floor: No additional space is needed beyond most dance floors. You can use the exact size of the dance floor
Also remember your space limitations. Tents need an additional 5' around the perimeter for staking. For example if you are looking for a 20' x 20' tent, you need roughly a 30' x 30' area.

Drawing a floor plan:
Need help envisioning your space? We have CAD programs which will lay out the entire floor plan of an event. Our event consultants are happy to assist you with a sample design and work with you to create whatever tent event you desire.